Delivering Value for Customers and Shareholders
Dollar Tree, Inc., ranked 137 on the Fortune 500 list, is a leading operator of discount variety stores that have served North America for more than 63 years. Operating under the brands Dollar Tree and Family Dollar, we are headquartered in Chesapeake, Virginia and operate more than 16,000 stores across the 48 contiguous states and five Canadian provinces, supported by a coast-to-coast logistics network and more than 200,000 associates. We are more focused than ever on providing customers and their communities with convenience and extreme values. We are also committed to serving the best interests of our stakeholders and are enhancing shareholder value through exceptional performance, responsible business practices, and effective communication.
Learn More About Our Company
Latest Quarterly Results
Q3 2022
Quarter Ended Oct 29, 2022
25.0%
Diluted Earnings per Share Increased 25.0% to $1.20 vs. $0.96
8.1%
Consolidated Net Sales Increased 8.1% to $6.94 billion
6.5%
Enterprise Same-Store Sales
8.6%
Dollar Tree Same-Store Sales
4.1%
Family Dollar Same-Store Sales
Source: 2022 Q3 Earnings Release
For complete information regarding our financials, see our periodic filings
Latest Annual Filing
For Fiscal Year Ending Jan 29, 2022
Dollar Tree, Inc. in FY 2021
Dollar Tree, Inc. Stores by Segment
Dollar Tree, Inc. YoY Net Sales
(in millions)
Sustainable, Ethical Business for a Brighter Future
At Dollar Tree, Inc., we know our business today can contribute to a brighter tomorrow. We're putting our people, the environment, and the communities and customers we serve at the forefront of every decision we make.
Environmental Stewardship
Every decision we make, from the products we sell to the vendors we work with, has an impact on our environment. Through our Sustainability and Corporate Social Responsibility Committee, our leadership is ensuring that we remain committed to reducing our environmental impact and planning for potential impact of climate change and other environmental risks pertinent to the business, upgrading our operations to use more energy-efficient systems, and partnering with suppliers that also work to reduce their environmental impact.
Corporate Giving & Partnerships
At Dollar Tree, Inc., we strive to give back to our community, not only by offering quality products at great low prices, but also by supporting efforts that improve the quality of life in the communities in which we operate, particularly those surrounding our corporate headquarters and our distribution centers. We have an active and ongoing commitment to our three main charitable partners — Operation Homefront, the Boys & Girls Clubs of America, and United Way of South Hampton Roads.
Diversity, Equity & Inclusion Efforts
At Dollar Tree, Inc., people are our priority. Our primary goal is to build a diverse and inclusive workforce where our individual differences are respected and appreciated. We also believe in implementing policies and partnering with organizations and vendors that ensure equitable and ethical treatment and support of all people. We've established a Diversity, Equity, and Inclusion (DEI) Executive Council to advocate for strategies that promote and embrace diversity, ensure fair treatment, and enable everyone to feel welcome and have equal access to opportunities and resources.
Our Two Value-Focused Brands
Dollar Tree
With stores in thousands of communities across the U.S. and Canada, Dollar Tree is known for providing unparalleled values and a "thrill-of-the-hunt" shopping experience. With an ever-changing assortment of products in categories such as seasonal celebrations, party supplies, crafts, snacks, cleaning supplies, and more, we offer more thrills, more fun, and exciting new surprises every week.
Learn More About Dollar Tree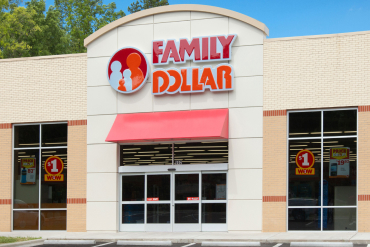 Family Dollar
With everyday low prices, convenient neighborhood locations, and a compelling assortment of merchandise for the whole family, Family Dollar is helping our customers do more every day. From toys and beauty supplies to household cleaners, home décor, and grocery items, we are an essential and dependable resource for our customers.
Learn More About Family Dollar
Combo Stores
We are writing a bold new chapter for our business and for towns all across America. Our Combo Stores bring the best of Dollar Tree (seasonal, party, crafting) and Family Dollar (savings on family essentials) together under one convenient roof to help customers find everything they want and need.
Learn More About Combo Stores
IR Contacts
Corporate Office
Dollar Tree, Inc.
500 Volvo Parkway
Chesapeake, VA 23320
T: 757-321-5000


Questions about the Company, our stores, online shopping, or product information?
Visit Our Customer Help Center
Investor Relations
Randy Guiler
Vice President, Investor Relations
T: 757-321-5284

Transfer Agent
First Class / Registered / Certified Mail:
Computershare
P.O. Box 505000
Louisville, KY 40233-5000
TF: 800-622-6757
T: +1-781-575-2879
https://www.computershare.com
Courier Services
Computershare
462 South 4th St.
Suite 1600
Louisville, KY 40202